Skin Rejuvenation on a cellular level
BBL stands for Broad Band Light and is the name of an advanced light energy-based technology that delivers light therapy in specific bands rather than in the single wavelengths that are used in laser treatments. Exposure to this specialised light not only targets and removes blemishes but also stimulates the skin to rejuvenate itself.
Results driven
The Sciton BBL has added technology that sets new standards in treating skin conditions associated with ageing, active lifestyles and sun damage.
By adjusting the machine's parameters, BBL is able to be tailored to treat each individual skin's condition to achieve the desired result.
(right – before and after 1 treatment)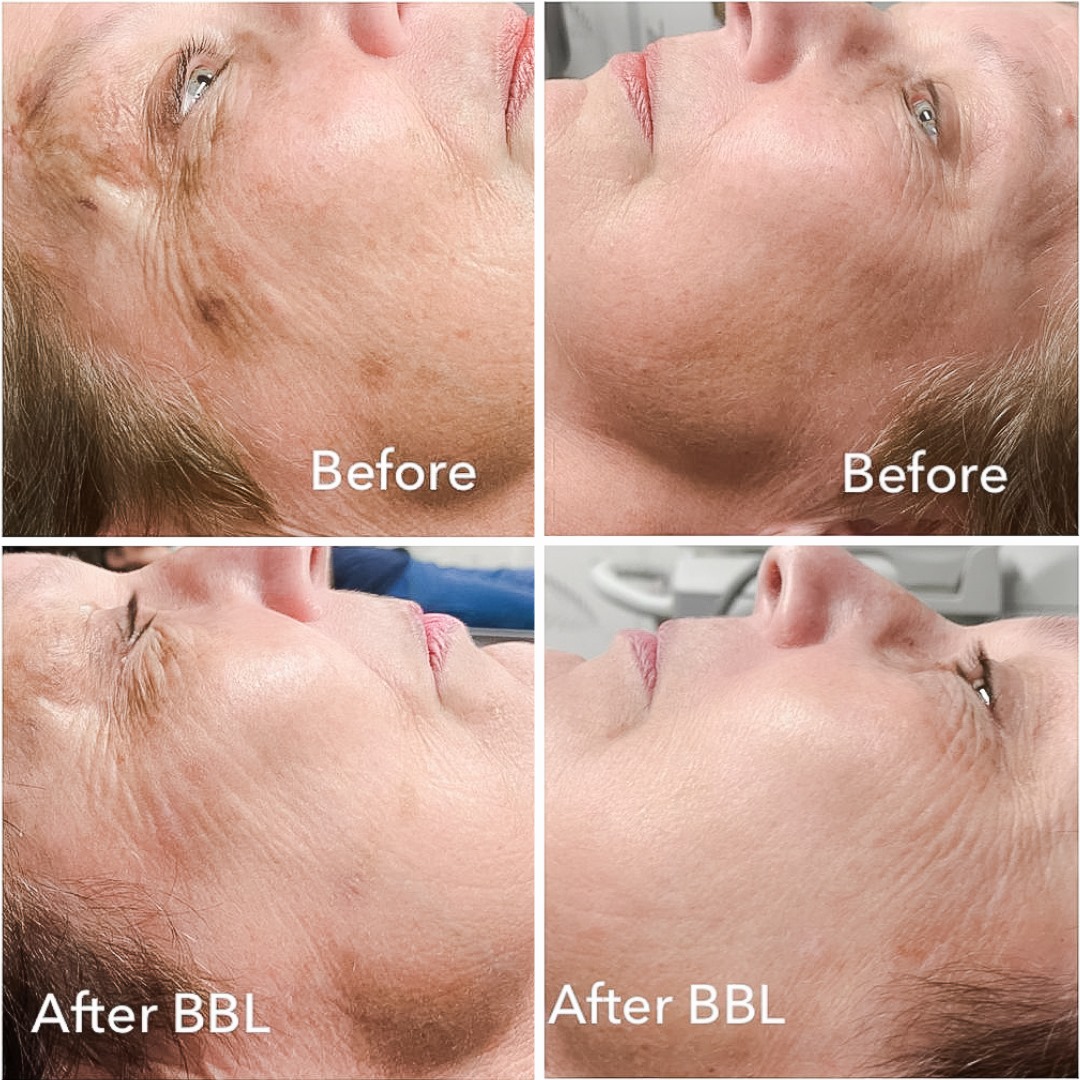 Why Sciton Forever Young BBL?
The difference between normal IPL and Forever Young BBL is the light energy that is delivered.
Sciton BBL will gently heat the upper layers of the skin and the heat absorbed by the targeted areas will stimulate your skin cells to regenerate. This process will restore your skin to its natural beauty, making it clearer, smoother, vibrant and younger looking.
The Sciton Forever Young BBL is the only device that has been shown to change the expression of genes associated with ageing, longevity and increased lifespan.
(before and after 1 treatment)
Benefits
Any area of your body can be treated. The most common areas are those most exposed to the damaging effects of sunlight. The most popular treatments are for the face, neck, back of the hands and chest. BBL has the benefits of:
• Minimal downtime
• Healthier looking skin
• Smoother skin
• Reduced pore size
• More even skin tone
• Reduced redness and flushing
• Reduced wrinkle size
(before and after 1 treatment)
Frequently Asked Questions
No changes to your normal routine are necessary, except to limit sun exposure both before and immediately after treatment. Any sunscreen or makeup will need to be removed before treatment.

A skin analysis is required prior to treatment and a patch test may be required. Treatment will take between 10-30mins and no anaesthetic is required.

Price starts from:
Full Face – $350
Decolletage – $250
Half Face – $280
Neck – $300

Packages are available

The eyes are protected with safety shields or glasses and a cold gel is applied to the skin. There is a noticeable flash sensation similar to the flash of a camera. Some slight discomfort might be felt, often described as a warm elastic band flicked onto the skin. However, any discomfort is momentary and there is no need for any topical anaesthetic cream. A BBL treatment typically takes around 20-30 minutes.

Yes. BBL treatments can be used in combination with various other procedures such as wrinkle injections, dermal fillers, chemical peels, skin needling and photodynamic therapy.

There is no downtime after this treatment. Patients may experience some redness that should resolve within a few hours to a day. For some pigmented lesions, you will see a darkening of the treated area followed by fading and flaking off over several days. After the initial healing phase, you should begin to appreciate an improvement in skin tone and quality. In most cases you can apply mineral based makeup immediately after treatment if required.